Events and Details for Kelly and Trevor's Wedding

Note: We don't want to publish the location of any of these events on the web. Please fill out the form if you intend to attend so you can arrive at the right place.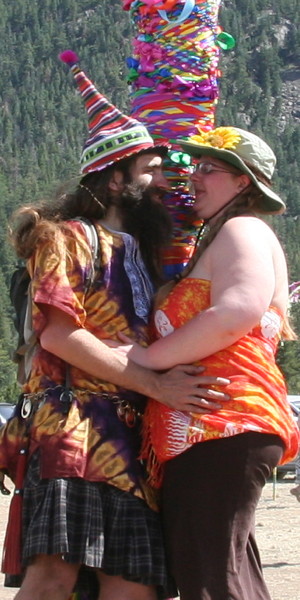 We're very excited to see you at our wedding. So excited that we're having several events so that we can spend more time with you. Come to as many or as few as you'd like. Kids are welcome; please keep an eye on yours. Come visit us even if you can't make the ceremony.
Game day, Saturday, September 12th, 2–11pm

Come to our house for a day of potluck, homebrew, socializing, board games, card games, and maybe even lawn games. Bring an entré, a salad, a snack, or your favorite beverage. Bring any games you'd like to play or select from our big bookshelf of fun. Kids are welcome; please keep an eye on yours.

Hike in Boulder, Thursday, September 17th, 1–4pm

Meet at our house and join Trevor on a hike. Bring good shoes, a water bottle, sunscreen, and a snack. Based on consensus we'll pick an easy or medium route in the Boulder foothills.

Open House/Home/Heart Storytelling, Friday, September 18th, 2–10pm

Share good stories and praise for Trevor or Kelly at our house. Bring a potluck dish or a tasty drink. This will be a great opportunity to make new friends, swap stories, sing a song, or talk about your favorite memories of Trevor and Kelly. We'll periodically gather folks for a few grand tales but there will be plenty of unstructured socializing too. Stop by any time with a short anecdote or a long tale.

Wedding Ceremony, Saturday, September 19th, 3–5pm

RSVP to learn which park in Boulder we'll be at.

The theme of the ceremony is Yin and Yang, the balance of feminine and masculine energy, with symbolism from the I Ching. We will post some background material to the website if you'd like to learn more. Black and/or white outfits are encouraged (to match the yin/yang motif), but feel free to wear a fabulous outfit that doesn't fit the theme.

The ceremony will involve standing and movement on grass; plan your footwear accordingly. We will have chairs available for folks who have trouble standing or don't move like they used to; be sure to let us know in advance if you'd like one.

We will have pie, coffee, and juice after the ceremony. Please don't bring alcohol or glass containers to the park.

Wedding Reception, Saturday, September 19th, 6–11pm

Continue the celebration at a venue in Longmont for dinner, drinks, and dancing!

Dinner will be buffet style, starting around 7:30pm. Please let us know in advance about any food restrictions. Alcohol will be available at a cash bar; soft drinks, coffee/tea are free. There will be old-time square & country dances with a live caller and a band; bring your dancing shoes! Kids are welcome but must be supervised by a responsible adult. See the main page for contra dance resources.

Brunch, Sunday, September 20th, 11am–?

Decompress and say goodbye with brunch at our house. We'll have fixin's for omelettes and a skillet for bacon, or bring your favorite late morning food to share. We'll probably have lots of leftovers from Friday, too ☺ The focus will be on relaxation and recuperation, with plenty of hugs for good measure.