Trevor Stone Explores the Middle Kingdom :: Travels in China
I spent a month in early 2008 traveling in China with my friend Molly. The trip spanned Spring Festival (Chinese New Year) and Lantern Festival. Despite national travel chaos due to blizzards in much of China, our trip through southern China was full of blue skies and pleasant temperatures. This page will be a record of much that was done and said, but writing down a whole month's experiences is long work. So to start with it's got is a summary, a daily log, a list of 88 auspicious things I did, a list of what's hot in Xishuangbanna, and several hundred pictures. Most links (outside of navigation bars) on these pages will open in a new window or tab. Subsequent links will reuse that target, so you can easily follow the story and the pictures.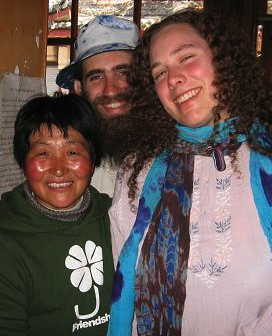 Dramatis Personæ
Molly, Communications Officer. Dressed in a scarf.

A linguist by training and hobby, this Peace Corps veteran jumped at the chance to teach English, learn Chinese, soak up culture, and devour new fruits, all within an El Sobrante fortnight. As the story begins, she has lived in Xiamen on the Fujian coast for five months.

Trevor, Navigator. Dressed in a hat.

A software engineer by profession, Trevor has spent much of his life enjoying Chinese food, Chinese philosophy, and Chinese style. His desire to take a month off work and travel somewhere warm during early 2008 conveniently coincided with a guide with half a year of Chinese experience and a month of free time.

The People of China, The Locals. Dressed in coats.

With over 1.2 billion citizens, the Middle Kingdom happily provides a wide variety of supporting characters and extras from Han entrepreneurs to Naxi innkeepers to Dai monks to Tibetan drummers.

Several Small Furry Creatures, Comic Relief. Dressed in furs.

Dancing dogs, coy cats, and a masturbating monkey can't speak Chinese well either.
---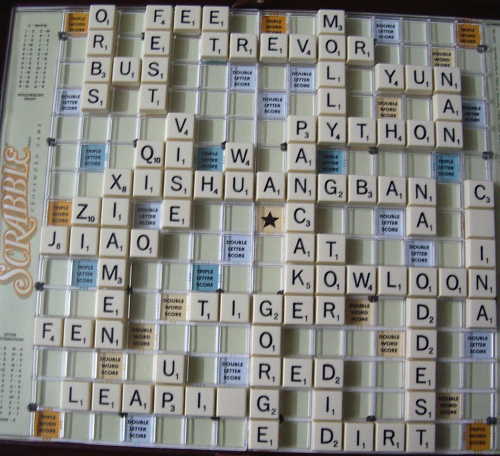 Molly
and
Trevor
met in
Kowloon
and
did
many things in
China
. The
bus
through
Yunnan
showed red dirt and felt like Peru. They hiked
Tiger Leaping Gorge
and ate
orbs
for Spring
Fest
. The
pancake
, like
Xishuangbanna
, was very fruity.
At
Yue Liang Shan, they paid a
fee
to climb
up
a karst
tor
. The bathroom cost
wu jiao
but they acquired some
fen
. Shi Hu
Zi
was the
oddest
looking person many Chinese had ever seen. In
Xiamen
they talked about
Python
and linguistic
qi
and hugged each other like a
vise
.
We're a little better for the wear.